Unfortunatly the Bio Stream has been discontinued. I keep the page up for educational purposes. To get the same results a zincometer and a programable gamma generator would be all you need.
12 Important Advantages of Bio-Stream:

1. Up to four pair of electrodes can be connected.

2. Can generate different wave shape, can therefore be used for most frequency application;

3. Two frequencies can be mixed via the electrodes;

4. Built in Plates for plate zapping.

5. Homeographic copies can easily be made up;

6. Program Drivers can be read an generated;

7. Tens Function. Also programmable with Drivers;

9. Carbon handhold electrodes as well as many accessories

are part of the basic equipment.

10. Bio-Stream is compatible with our other units;

11. Via the PC interface to the patient management system, patient data and individual frequency programs can be stored;

12. Software updates guarantee the latest technology for a long time.


BioStream is like the sun of a solar system, where the zappers or (Bio-Wave)are the planet: You can choose and run specific frequency programs with BioStream, and store them on Drivers, so that your customers who have there own bio wave can use their specific frequency programs.

An optional patient management software can be run on a pc and connected to BioStream so you can manage your patients, history, and data, and frequency programs you have to run for them.

The BioStream is rechargeable with built in battery charger and comes with two year warranty.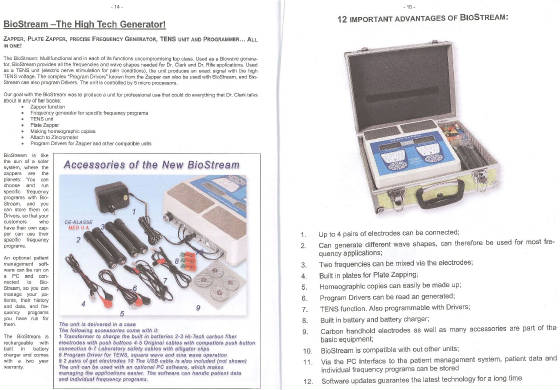 Frequency Table Here is a list of programmable frequencies for the Bio-Stream and Full Gamma generator
Accessories of the New BioStream
The Unit is delivered in a Case.



The following accessories come with it:



(1.) Transformer to charge the built in batteries:



(2-3) Hi Tech carbon fiber electrodes with push buttons:



(4-5) Original cables with compatible push button connection:

(6-7) Laboratory safety cables with alligator clips:



(8) Program Driver for TENS, square wave and sine wave operation:



(9) 2 pairs of gel electrodes:



(10) The USB cable is also included (not shown). The unit can be used wwith the optional PC software which makes managing the application easier. The software can handle patient data and individuals frequency programs:
Zapper, Plate Zapper, precise Frequency Generator, Tens unit and programmer...All in One!
The BioStream: Multifunction and in each of its functions uncomprising top class. Used as a biowave generator, BioStream provides all the frequencies and wave shapes needed for Dr Clark and Dr Rife applications. Used as a "Tens" unit(electric nerve stimulation for pain conditions,)the unit produces as exact signal with the high TENS Voltage. The complex "Program Drivers" known from the Bio-Wave can also be used with BioStream, and BioStream can also program drivers. The unit is controlled by 5 micro processors.

Our goal with the BioStream was to produce a unit for professional use that could do everything Dr Clark's books talks about in any of her books:

* Zapper function (Bio Wave)
* Frequency generator for specific frequency programs
* Tens unit
* Plate Zapper
* Making homeographic copies
* Attach to Zincrometer
* Program Drivers for Zapper and other compatible units.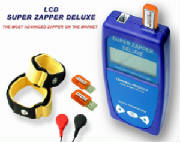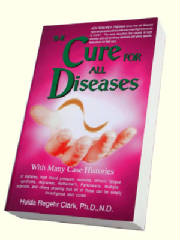 Colloidal Gold, Silver, Copper & Zinc
Immune Systems Builders
GOLD boosts, corrects and balances the body's neural system. GOLD opens neural pathways. GOLD regulates heart's natural pumping rhythm. GOLD boosts brain neural transmitters. GOLD works with glands. GOLD harmonizes the nervous system. GOLD is an important stabilizer of collagen GOLD strengthens libido. GOLD enhances brain function. GOLD increases IQ. GOLD enhances sexual function. GOLD acts on rheumatoid arthritis. GOLD assists relaxation and blood pressure control . GOLD has unequaled effects on physical and emotional health.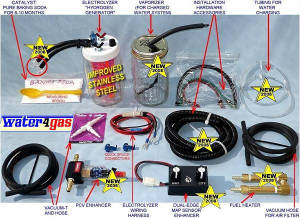 Search Engine Marketing & Optimization